Report on MMA Activities and Projects for 2005/2006
The annual general meeting of the MECHATROLINK Members Association (MMA) was held on May 17, 2006 at the Mita NN Hall in Tokyo, Japan. We would like to express our thanks to all members who attended in spite of the rain.
At the meeting, lectures, and banquet, every member's understanding of the objectives of the association was deepened, and the already existing relationship of mutual trust among members was more firmly established.
The MMA will continue to hold activities in the widespread uses of MECHATROLINK as a global de facto standard is promoted.
| | |
| --- | --- |
| Date | 1:30 to 6:40 pm on Wednesday, May 17, 2006 |
| Venue | Mita NN Hall, Tokyo |
| Number of Participants | 28 member companies (43 participants) |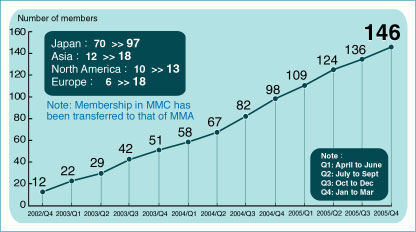 As of the end of the 2005 fiscal year, 146 companies (97 companies in Japan, 18 in Asia, 13 in North America, and 18 in Europe) have joined the MMA. Our goal is to increase the number of members to 200 companies by March 2007.
To reach this goal, new branch offices will open in Korea, China, the USA, and Germany.
To make MECHATROLINK even easier to use in semiconductor and liquid-crystal manufacturing systems and to make MECHATROLINK technology more open, the MMA established a task force with the approval of the SEMI I&C committee, and the task force started working to obtain SEMI E54 for sensor actuator networks (SAN).
We expect that the task force will accomplish its goals and work for the establishment of a MECHATROLINK motion network that is even more global and easier to use and that the use of MECHATROLINK will continue to grow.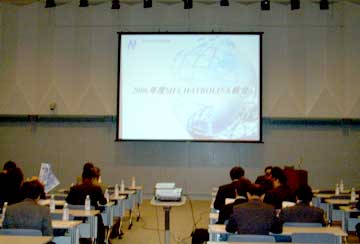 Agenda
Opening Ceremony
by Hiroshi Ogasawara, General Secretary of the MECHATROLINK Members Association
MMA Activities and Projects report 2005, and 2006 Plan
by Takeshi Tanaka, Chief of the MECHATROLINK Members Association Secretariat
Report on the progress and schedule of MECHATROLINK-III
by Atsunobu Sakata, MECHATROLINK Members Association Secretariat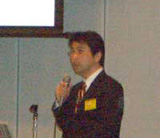 Lecture
Constructive opinions for MECHATROLINK were given from the user's point of view by Mr. Tetsuhiro Yamada of Nittoku Engineering Co., Ltd.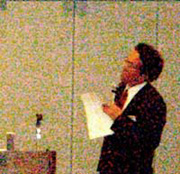 Special Guest
"Production systems to raise capabilities in production sites"
by Prof. Yoshiro Fukuda from Hosei University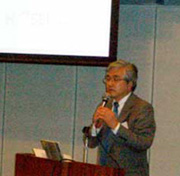 Presentation of MECHATROLINK Products
Mycom Corporation
MECHATROLINK-II supported MLH20-1030 PCI-bus host controller card
Melec Incorporated
MECHATROLINK-II supported C-M581 and CD-M582S / ADB5432
Oriental Motor Co., Ltd.
MECHATROLINK-II supported α STEP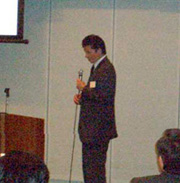 Banquet
During the banquet, participants amicably exchanged information and opinions. Every participant expressed great expectations for MECHATROLINK.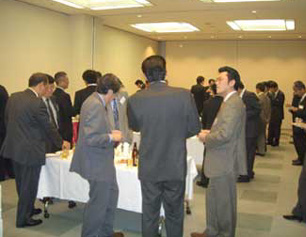 Information
MECHATROLINK Members Association plans to participate in SEMICON JAPAN 2006 held December 6-8, 2006.