An Overview of MECHATROLINK-4
MECHATROLINK-4 has evolved into a next generation motion field network, while maintaining the high functionality, high performance, high reliability, and usability of its predecessor MECHATROLINK-Ⅲ. MECHATROLINK-4 is a new generation motion field network that incorporates new specifications that have never existed before.
Features
(1) Streamlining the Transmission Sequence
MECHATROLINK-4 has greatly improved transmission efficiency by switching the communication mode from half duplex to full duplex.
This allows MECHATROLINK-4 to support the creation of systems with improved functionality and higher performance.
Improved control performance: The transmission cycle for the same number of devices has been shortened to approximately 1/4 that of the previous version. This achieves more accurate control.
Support for large-scale systems (equipment): The number of slave devices that can be connected to the same transmission cycle is approximately 4 times that of MECHATROLINK-Ⅲ.
Setting aside the transmission cycle, idle time can be used for Internet protocol, message, and retry communications.s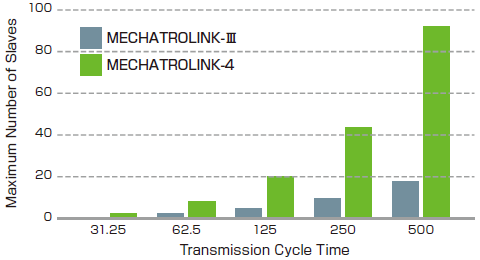 (2) Multiple Transmission Cycles
With MECHATROLINK-4, different cycle settings can be set for each slave. Multiple transmission cycles can exist on the same network, allowing slave devices to be controlled with the optimal transmission cycle.
Fast transmission cycles and slow transmission cycles can be set on the same network.
I/O devices that do not require fast periodic control can be connected to high-speed networks without increasing the communications load.
More slave devices can be connected by distributing the communications timing of devices that communicate using a slow cycle.
The master program can be created more efficiently by setting the optimal transmission cycle for each slave.

(3) Multiple Control Domain System
MECHATROLINK-4 enables system configurations which allow up to eight masters on the same network. Use the multiple control domain system to improve equipment performance and support safety systems.
Build logical groups called" control domains" for each master and the slaves under its control.
One master can manage multiple control domains.
Slaves can belong to multiple control domains.
Control communications within a control domain can be simultaneously perfomed in parallel. (the Parallel I/O transmission)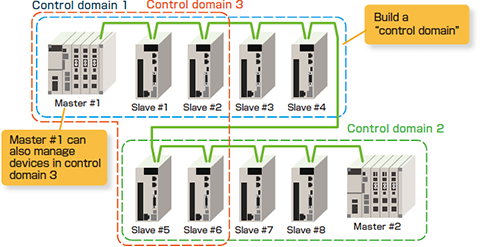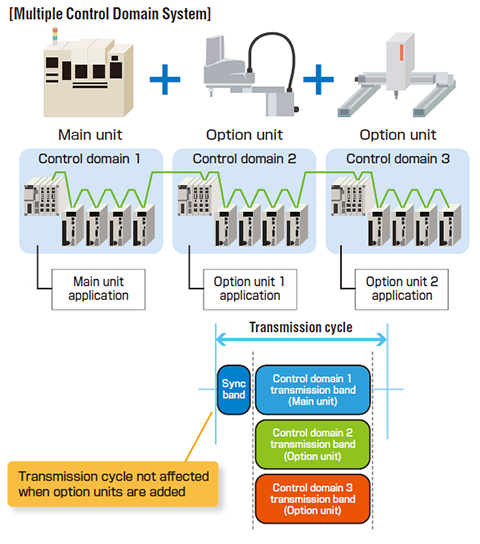 (4) Support for Safety Systems
MECHATROLINK-4 is capable of supporting safety systems by using the multiple control domain system (in the future).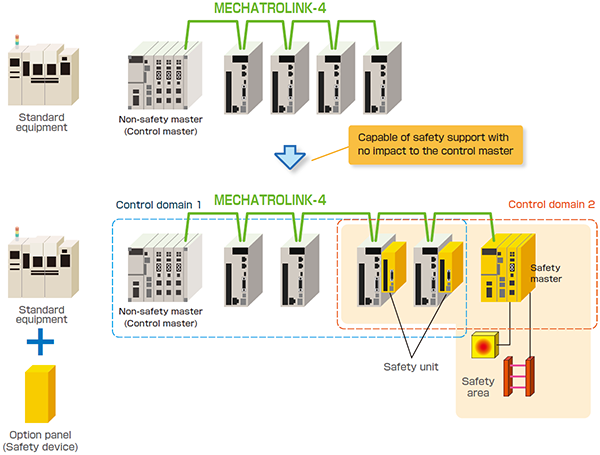 (5) Connections to Ethernet Devices
Ethernet devices can be connected directly to MECHATROLINK-4. Idle bands within the transmission cycle created by improved transmission efficiency are used as Internet protocol bands. Internet protocol bands that are used have no impact on control communications.