Jul. 08, 2015

Report on 2015 MECHATROLINK Members Association General Meeting, Lectures, and Reception
The MMA general meeting was held at UDX Conference in Akihabara, Tokyo, on June 5 (Fri), 2015.
Hiroshi Ogasawara, the Chairman of the MMA, started off the proceedings with a welcome speech. He talked about the MMA's future outlook based on the keyword of "Industry 4.0," a strategic initiative of the German government which refers to a fourth industrial revolution. He expressed his intention to further promote the use of MECHATROLINK in an environment where all devices are connected to the Internet and device visualization is moving forward.
After Chairman Ogasawara's speech, Takuya Miwa, General Secretary, delivered a report on activities in FY2014 and plans for FY2015. This was followed by the financial report for FY2014 and a proposed budget for FY2015 by the secretariat. After these reports, the marketing sub committee and the PC tech sub committee gave reports on their group activities in FY2014 and plans for FY2015.
Three special lectures followed the general meeting. This year, we invited Choi Sung-Hyuk of AJINEXTEX Co., Ltd. in Korea as the first speaker. In his lecture, he introduced the MECHATROLINK compatible communication module that is best suited for PC-based controllers, and their aim to commercialize products configured with FPGAs and IP cores from different companies. He also explained the need of the Korean government and major companies to use robots in order to support the IoT (Internet of Things) and the Industry 4.0.
The second speaker, Kenkichi Araki of SoftBank Mobile Corp., talked about their approach to the rapidly expanding M2M (Machine-to-Machine) market, offered examples of the application of M2M, and introduced seven keywords for the expansion of IoT. He also introduced their IoT business using examples of collaboration with other companies and their own original business initiatives.
The third lecture was given by Masashi Murakami of Virtual Engineering Company & Virtual End-user Community (VEC). In his lecture, he pointed out that network security is the most urgent issue facing Industry 4.1J, and highlighted possible solutions in an easy-to-understand way.
After the lectures, three MMA member companies introduced their new MECHATROLINK products, and the meeting ended successfully.
This year, 150 people from 93 companies participated in the meeting. Throughout the meeting, we could once again appreciate the deep interest of all MMA members for the MMA activities, as well as the progress and increasing need for MECHATROLINK. During breaks and the reception, the participants took advantage of the only opportunity during the year where all MMA members can gather to actively exchange information.
The MMA will actively work to promote the use of MECHATROLINK around the world, with particular focus on the Asian region.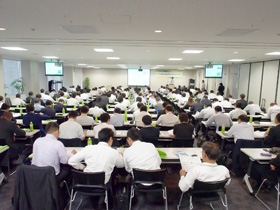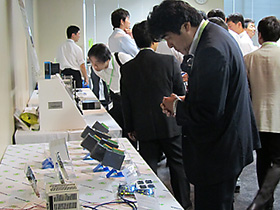 ---
Details on the General Meeting
| | |
| --- | --- |
| Date | 13:00 to 18:50 on June 5 (Fri), 2015 |
| Place | UDX Conference in Akihabara |
| Participants | 150 from 93 companies |
General Meeting
Welcome Speech
  Hiroshi Ogasawara, Chairman of the MMA
  General Manager of Technology and Development Div.
  and Director Corporate Senior Vice President
  Yaskawa Electric Corporation

  Report of MMA Activities
  Takuya Miwa, General Secretary of the MMA

  Financial Report for FY2014 and Budget for FY2015
  Mamiko Hiranuma, MMA Secretariat

  Report of Sub Committee Activities
  (Marketing Sub Committee and PC Tech Sub Committee)
  Kohei Nakamura, M-System Co., Ltd.
  Ryutaro Yamasaki, Micronet Corporation

Question and Answer Session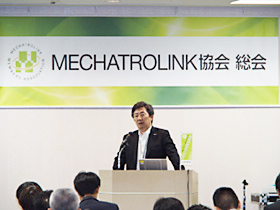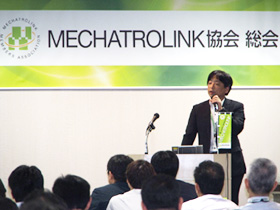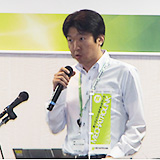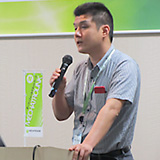 Special Lecture 1
"Robot Industry Trends in Korea and Case Studies on Joint Development with MMA/Yaskawa Electric Corporation"
Speaker name:Choi Sung-Hyuk (Japanese translation by Seonwoo Yun of the MMA Korea)
Speaker title:Director of Managing Dept. of Technology, Institute of Technology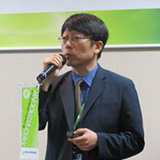 Special Lecture 2
"Anticipating Business and Future Global Development of Society Created by IoT/M2M, Humanoid Robot Pepper, and"
Speaker name:Kenkichi Araki
Speaker title:Chief of Corporate Planning Dept., New Business Sales HQ
Special Lecture 3
"World Created by "Industry 4.1J", One of Japan's Strongest Fields"
Speaker name:Masashi Murakami
Speaker title:Chief of the bureau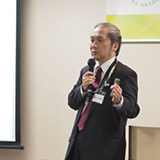 Introduction of MECHATROLINK New Products and Topics
1) MECHATROLINK-III compatible Stepping Motor Unit αSTEP AZ Series Multi-axis Driver

Tsuyoshi Kanno,
Unit Engineering Sec., Stepping Unit Business Dept., Motion Control Business Management Dept.
ORIENTAL MOTOR CO., LTD.

2) MECHATROLINK-III compatible K1G Series High-accuracy Position Sensor

Sadaichi Murai
Deputy Manager of FA Business Development 1st Dept., Global Business HQ
Azbil Corporation

3) MECHATROLINK-III compatible AC Servo System SANMOTION R ADVANCED MODEL

Daisuke Furukawa
Servo System Group Product Specialist, Sales Headquarters
SANYO DENKI CO., LTD.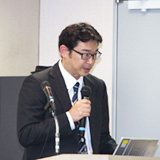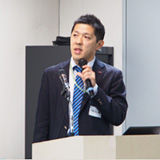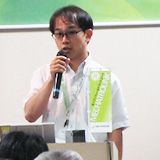 Reception