Oct. 21, 2016


Report on Taipei International Industrial Automation Exhibition 2016
The MMA participated in the Taipei International Industrial Automation Exhibition 2016 held at the Taipei World Trade Centre Nangang Exhibition Hall (TWTC Nangang) from August 31 (Wed) to September 3 (Sat), 2016 to promote the use of MECHATROLINK.
At the MMA exhibit located along the main passage in the exhibition hall, we demonstrated the excellent connectivity of MECHATROLINK using new MECHATROLINK-compliant products and introduced MECHATROLINK total solutions. We also handed out the latest MMA catalog to visitors, as well as the MECHATROLINK Total Solution catalogs that were specially prepared for the exhibition to introduce the merits of MECHATROLINK. The exhibition was successful with over 1,700 visitors over the four days. Our booth was so popular that we ran short of catalogs on the last day of the exhibition. We also saw many people walking around the exhibition hall carrying a MECHATROLINK-colored eco-bag they had received at the MMA booth.
The MMA will continue its promotional activities to further expand the use of MECHATROLINK in Taiwan.
MMA Participants
ALGOSYSTEM CO., Ltd
ANYWIRE CORPORATION
Azbil Corporation
Digital Electronics Corporation
KEYENCE CORPORATION
Micronet Co.
M-System Co., Ltd.
NEXCOM JAPAN
NIKKI DENSO Co., LTD.
ORIENTAL MOTOR CO., LTD
SYSTEC Co
YASKAWA ELECTRIC CORPORATION
YASKAWA INFORMATION SYSTEMS Corporation
YOKOGAWA ELECTRIC CORPORATION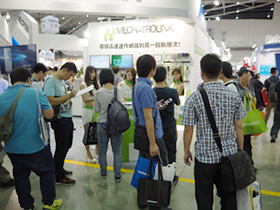 MMA exhibit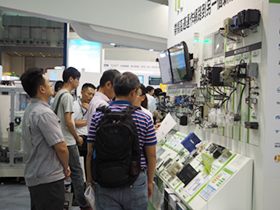 Visitors